Customised appliance control

ROS Service: Benefit by the expertise of experienced engineers for your project
Supporting your project "step by step"
ROS supports you and your project "step by step" from the problem to testing and certification up to the productive application. We only use reliable hardware that will be available for many years. This ensures that your industrial application will work trouble-free for a long time.
ROS developes prototypes and productive devices for industrial solutions by integrating the innovative controllers of the Smartstep-Family. These prototypes can excellently be used for testing and developing in combination with our software solution PSC (Personal Stepper Controller). The included DLLs can be integrated into your own software applications.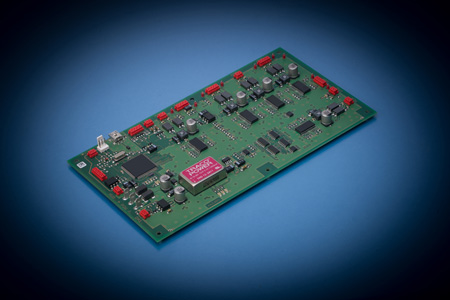 Example: Complete device electronics on a printed circuit board. Power supply,
Laser and camera control, as well as 5-step motor axes for a precise
3D measuring device
Our speciality: "Customised control systems
Are you developing a device and need a completely individual control system for it? That's our speciality! For smaller quantities, this can be realised relatively quickly with the help of our standard controls, including a few purchased parts if necessary.
For larger quantities, a customised design is usually required. As a rule, the unit's electronics should be combined on a single circuit board. This is more convenient, saves costs and brings advantages in wiring.
For example, you need power supplies, control panels, displays, inputs and outputs, sensor connections and perhaps also one or more motors in your device? We put these components on a PCB for you and follow your specifications (e.g. regarding environmental requirements and dimensions).
Step-by-step through all nessesary tests
On request we lead your device through all necessary tests, such as equipment safety and electromagnetic compatibility (EMC). We work closely together with our longstanding partners in the test laboratories. Our experience in the design and procurement of electronic components assures a prompt delivery and long-term availability. Our discreet and professional approach of course includes an appropriate confidentiality agreement.
The stepping motors and controllers can be customized individually.
For example:
shaft
flange
coil
connectin cable
plugs
environmental conditions
interfaces
programming
If our standard solutions do not lead directly to success, we offer the development of special hardware and software. In co-operation with you we provide a specification, which we realize normally at a fixed price.
We use the following technologies for you:
Different simulators and emulators for the development of UP systems
Development of digital (TTL/CMOS) and analogue circuits
Programming of uP's in Assembler,

MicroPython

and/or in various higher languages
PC-programming in VB und C#
Development of printed circuit boards by CAD
GAL (Gate Array Logic), CPLD (Complex Programmable Logic Device), FPGA (Field Programmable Gate-Array)
Automatic and semiautomatic measuring and inspection technology for electronics modules. Measuring technology for stepping motor drives (static and dynamic)
Office applications for the documentation, calculation, presentation and administration
Other procedures and technologies (e.g. the EMC measuring technology) are available at our partner companies.
We support your work with the SmartStep-Family and PSC. Our telephone-hotline supports you with the integration of the drives. Click here for answers to fequently asked questions: FAQ